Summer is coming, so it should come as no surprise that you find your thoughts drifting toward sunlit beaches and the low hush of waves caressing a sandy shore. If you're tired of your regular routine, why not go "small town" this year? Beachside villages offer the friendliness, peace, and tranquility of yesteryear with all the fun-in-the-sun that's implicit in the word "vacation."
Nothing is more relaxing than leaving the freeway behind to putter along two-lane roads toward a welcoming gem of a beach town where locals stop in at mom-and-pop shops for a bit of conversation. Here are a few picture-postcard spots that promise quiet delights and simple pleasures for low-key East Coast getaways.
Blue Hill, Maine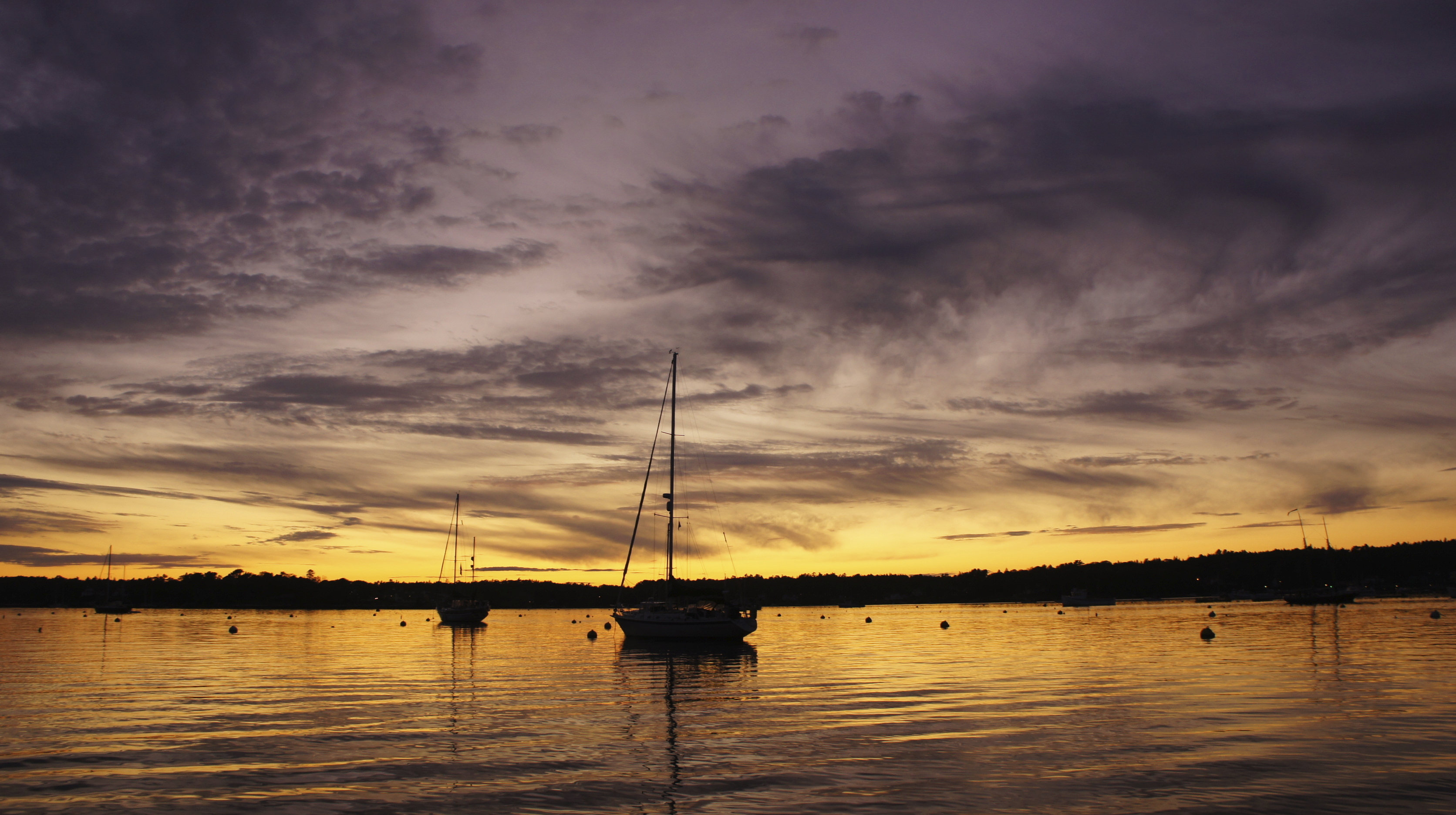 It's not in the "Maine-stream," but it's not so out of the loop either. Blue Hill is a seaside village with one lone traffic light. Artists, musicians, and writers gravitate here, wowed—just like you will be—by its stunning location on the western shore of Maine's Blue Hill Bay. Blue Hill welcomes visitors, but you won't find any glitz or souvenir shops here. The storefronts offer pottery, hand-loomed blankets, sculptures, and paintings, all made by local artists. You can cool off like locals by riding an inner tube down Blue Hill Falls, a reversible cascade (Watch it!) created by the tide rushing a narrow channel. Kayak the peaceful bay, climb the Blue Hill Mountains behind the town, or simply soak in sun on the public beach in the town park.
When it's dinner time, remember this is the Maine coast. Think succulent seafood at any one of the small, locally-owned restaurants. Be sure to try the lobster bakes at the Boatyard Grill, a family-friendly spot right on the water with outdoor patio seating and a nightly bonfire.
Rockport, Massachusetts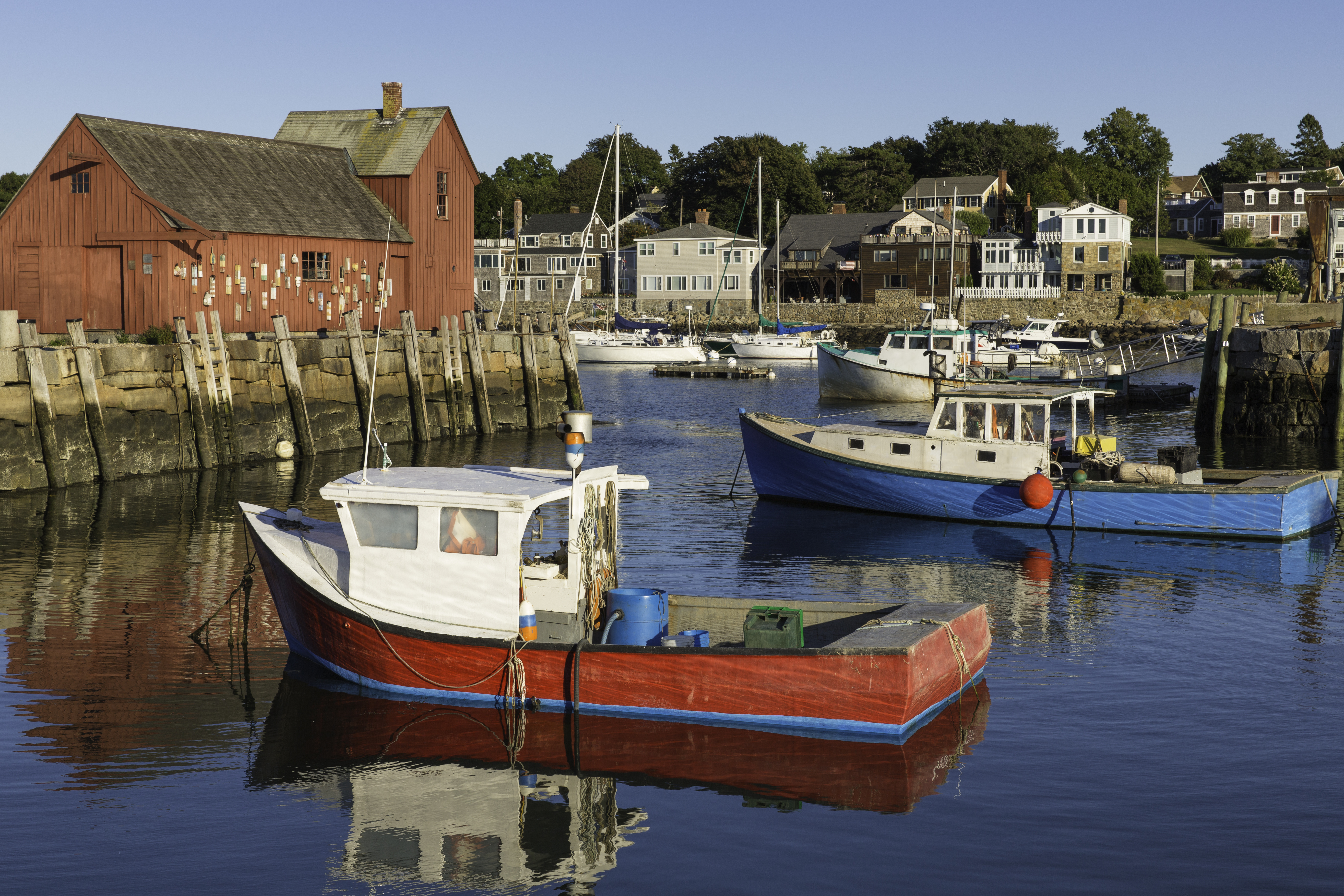 Could Rockport be the quintessential New England seaside village? You might cast your vote in its favor once you see the colorful fishing shacks lining the waterfront walls near the working harbor. For beaches, you'll have your pick. Try Back Beach for its glorious views or Cape Hedge Beach for sunny solitude. If you have kids, you may prefer Long Beach where lifeguards are on duty, or walk the small, smooth stones of Pebble Beach. Change your scenery up a bit and tour the local lighthouses—historic Straitsmouth Island Lighthouse and Twin Lighthouses.
Whatever you do in Rockport, you'll be bathed in the magical light that has been a siren song to painters since Winslow Homer.  Not to miss: the Paper House, built of 100,000 rolled-up newspapers by Swedish immigrant and mechanical engineer, Elis Stenman, in 1922.
Shelter Island, New York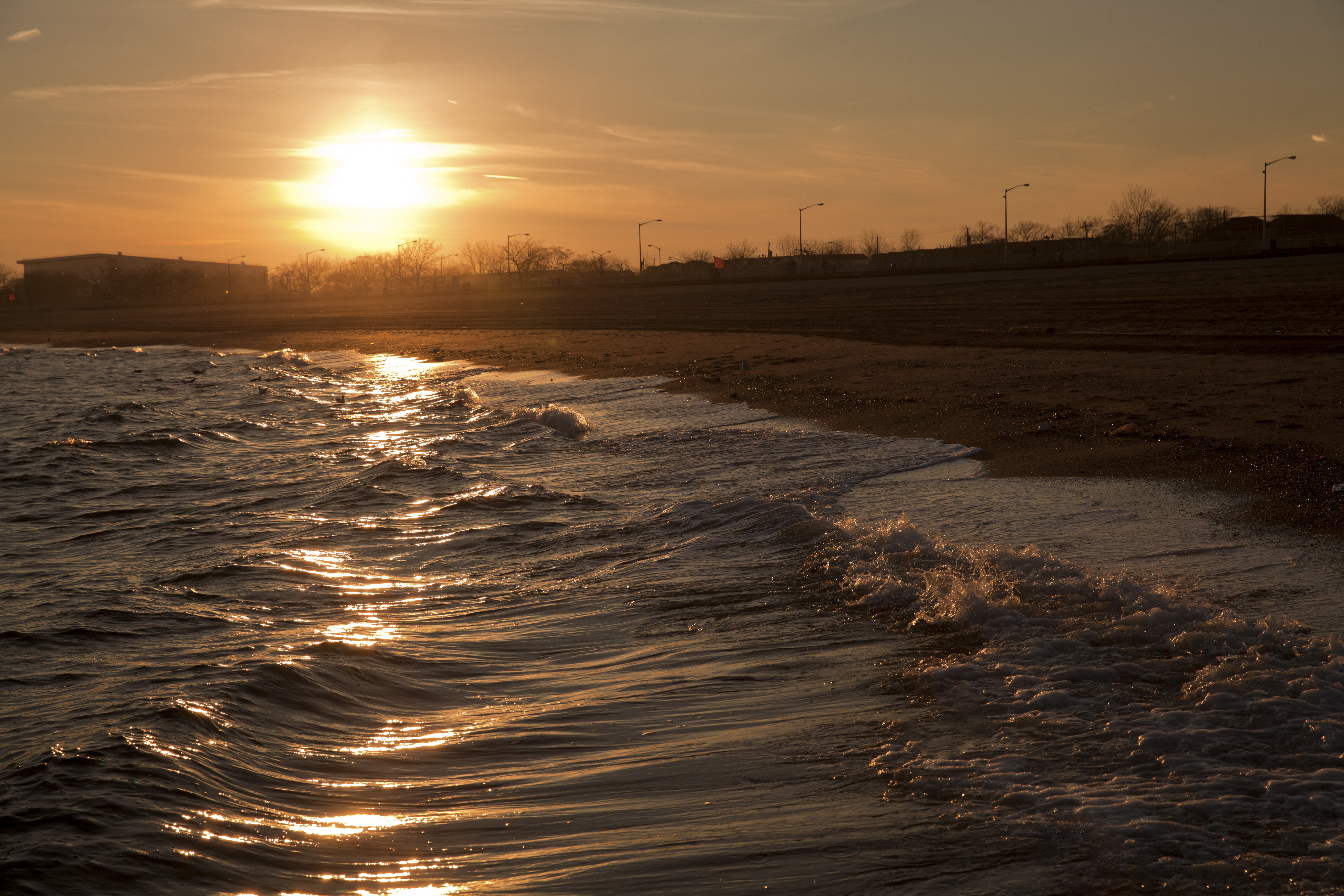 Shelter Island isn't far from New York City in miles, but it's light-years away in spirit. It's often called the "un-Hamptons" by locals to contrast its rural character with the uber-popular Long Island resort. Shelter Island covers some 8,000 acres. Much of the land is protected wetlands and marshlands, including the 2,000-plus acres of Mashomack Preserve, owned by the Nature Conservancy.
The town of Shelter Island has only a few thousand residents and unmistakable small town charm. Very few cars cruise the small streets—there's not one stoplight to be found here—and it's a biker's paradise. Rent bikes from Piccorzzi's Garage and Bike Shop to tour the island and explore quiet beaches like Shell Beach, accessible via unpaved Oak Tree Lane. You'll find sunny, sandy beaches galore here, but be sure to do a little hiking and kayak the calm blue water in the enchanting, wildlife-rich Mashomack Preserve.
St. Marys, Georgia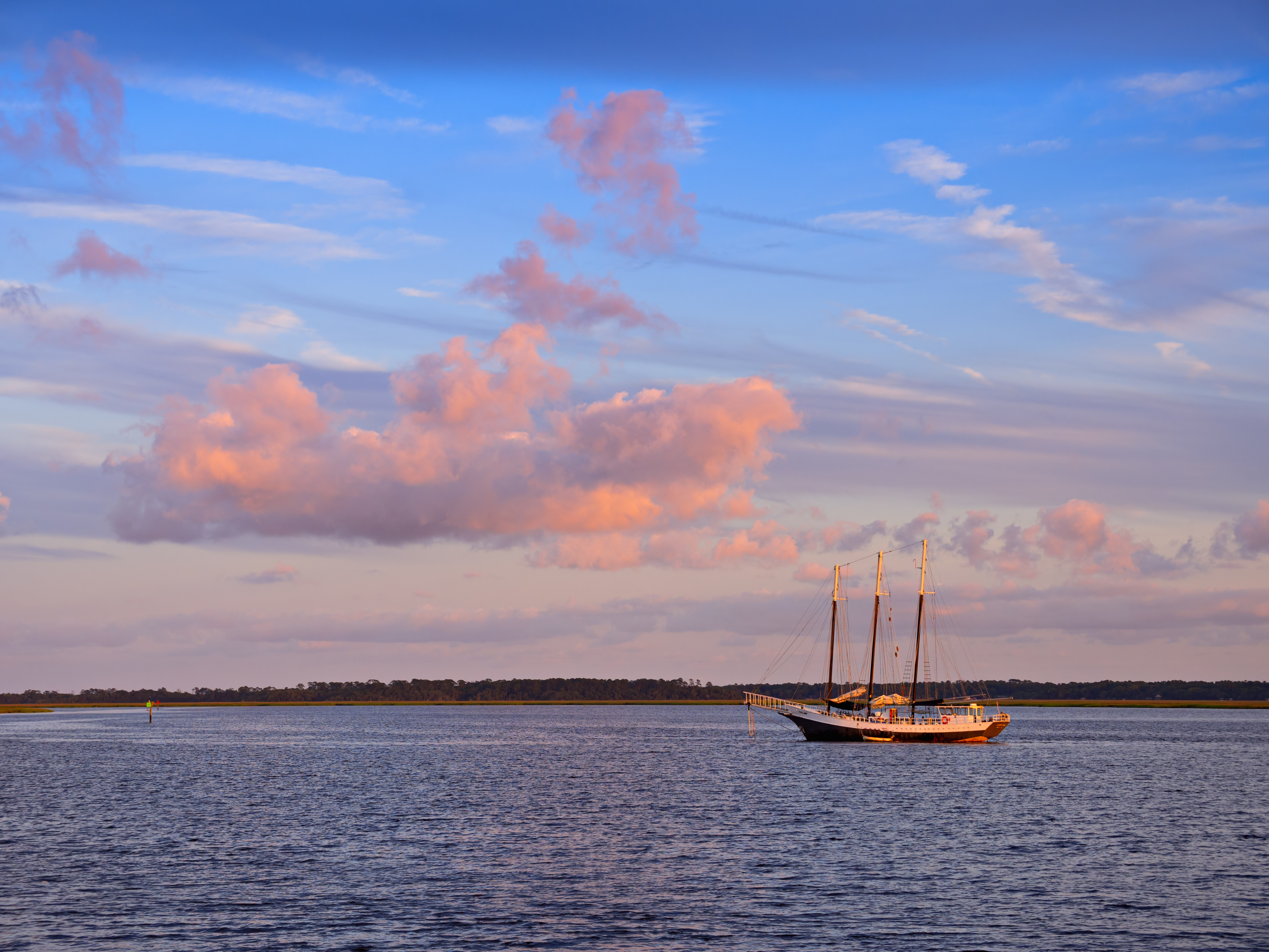 There's something indefinably homey about St. Marys. It might be the smell of fresh-baked goods wafting from the corner bakery, the white picket fences, or the way residents all seem to know each other. The main drag, Osborne Street, has no traffic lights and few cars. It will lead you to St. Marys Street that fronts the river of the same name. Stroll the fishing piers and explore the submarine museum that overlook it.
Only forty-five minutes from Jacksonville, Florida, St. Marys is a world apart with snug restaurants, neat cottages, and bright fishing boats. The little town is called the gateway to Cumberland Island National Seashore—the largest of the Georgia coast's barrier islands—where you'll find some seventeen miles of secluded sand beaches and deep forests as quiet as a church. Catch the ferry over to Cumberland Island from historic downtown and keep your eyes out and camera ready for the wild horses and loggerhead turtles when you get there.
Apalachicola, Florida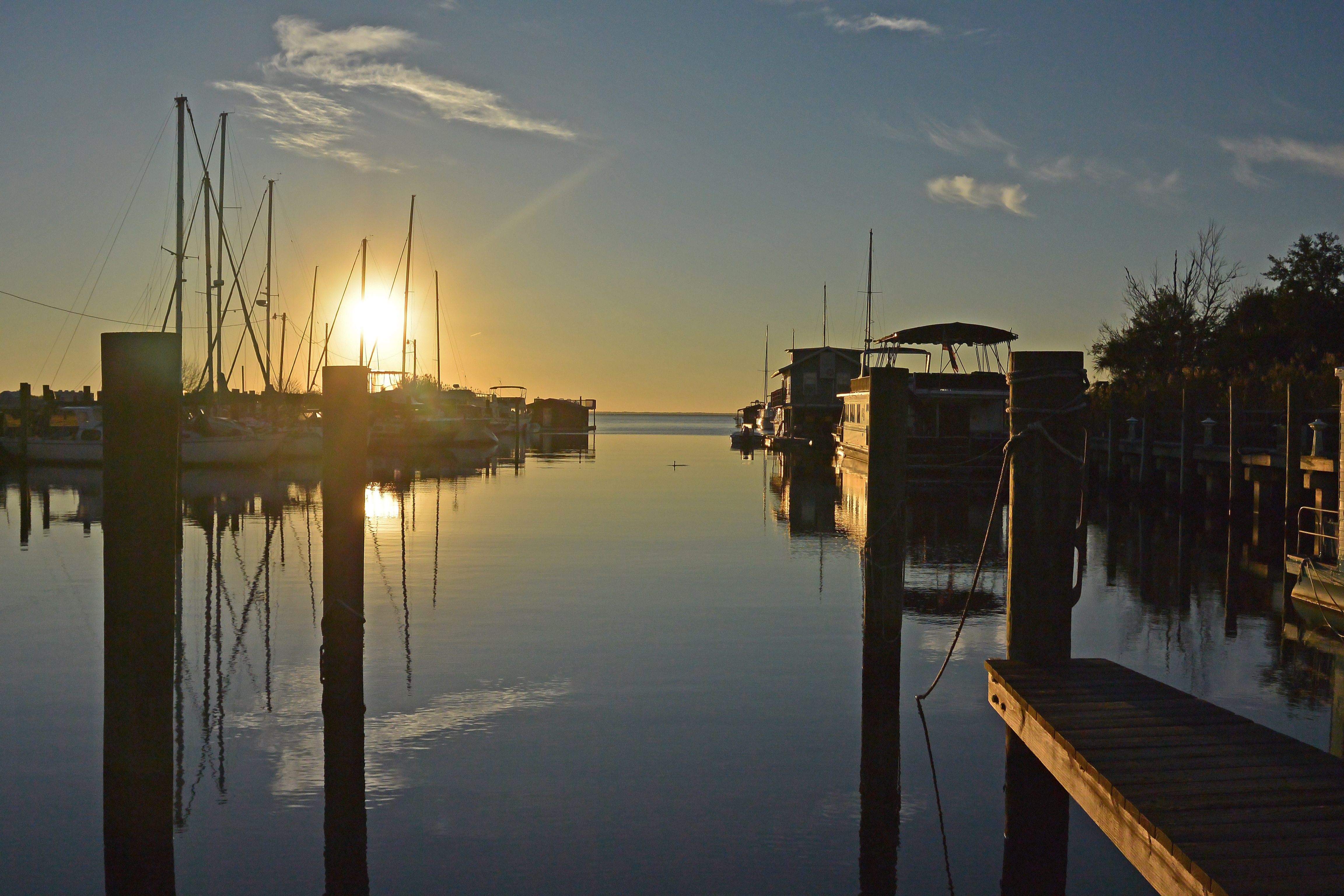 Slow, mellow, and laden with small town charm, Apalachicola (APP-a-LATCH-i-CO-la is a hardworking Florida panhandle community intimately tied to the sea. It's kept its 1830s vintage-working-port character through decades of ups and downs. With a Cape Cod look and a sweet southern vibe, this Gulf Coast village of 2,000 residents is one of the most delightful Florida beach destinations. A good eighty miles from anywhere, Apalachicola attracts visitors already "in the know" rather than Florida tourists who happen to be passing through.
The town dips its toes into Apalachicola Bay and retains an authentic working waterfront with colorful shrimp boats, bustling eateries, and renovated brick warehouses. The old factories located here currently house bistros, art galleries, and little boutiques. Stroll the wide, tree-lined streets to admire historic Victorian mansions. The fabulous beaches of St. George Island are within steps of town. Many visitors love Apalachicola's peace and quiet as much as its specialty oysters—but oyster tasting is a must during any stay. Check out any of the great oyster bars like Hole in the Wall Seafood, or Up the Creek Raw Bar.
Whether you're planning a long weekend get-away or want to try out a new locale for your summer vacation, think small. It's the little beach towns that have the biggest hearts and offer the relaxation, friendliness, and fun that you deserve, the East Coast vacation that will see you through the long winter.